Chocolate is the perfect corporate gift. We'll create your logo or a sample of your product in chocolate. Your logo, cast in chocolate, will create sweet success! Our chocolates make great gifts for clients, vendors, and business associates. We also make the type of business cards people love to receive. Chocolate ones! Your clients and employees will love them. With our shipping service, we can send items directly to recipients or to you for hand delivery. Of course, you may prefer to choose from our many assortments, pyramids, or specialty molded products. Perhaps some simple chocolate golf balls will do. They are not guaranteed to improve your game, but they might help your associates forgive you for it!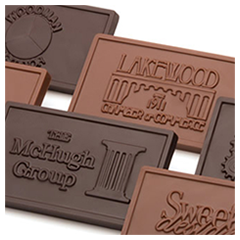 Chocolate Business Cards
Turn a company logo into a delicious chocolate business card. Give them away at company events or to clients. Business cards can be presented in a number of ways. Foiled in various colors. A centerpiece in a box of delicious chocolates or simply a bag with fancy ribbon.
Molded Items
Not excited about a bar? We can pretty much mold anything you like and include your brand on it. We have done chocolate boots for apparal companies, chocolate watches for jewelry companies, and even chocolate sailboats for harbor masters.
Recognition or Appreciation
Employees, Customers, Clients, Members, Volunteers, or Partners. Just some or the hard working people you deal with on a daily basis. Why not send them something special an recognize that hard work. Years of Service Awards, Retirement Gifts, Holiday Gifts, Contests and Incentives, On-the-Spot Recognition. Let us help. Work with us to put together something truly special.
Questions?
Please contact us using the form below or call us at 603-772-5253